HBO Max is one of the latest streaming services to enter the market, and it definitely is worth checking on. It keeps on expanding on the global stage. Thus it aims to provide more local-based content.
And while HBO Max is a great platform for watching movies, it is only available in certain countries. This means that you will need a VPN to access it while traveling abroad. A VPN will allow you to connect to the HBO Max servers from anywhere in the world, so you can enjoy your favorite movies and shows no matter where you are.
If you attempt to log in from a non-supported country, you'll get this message: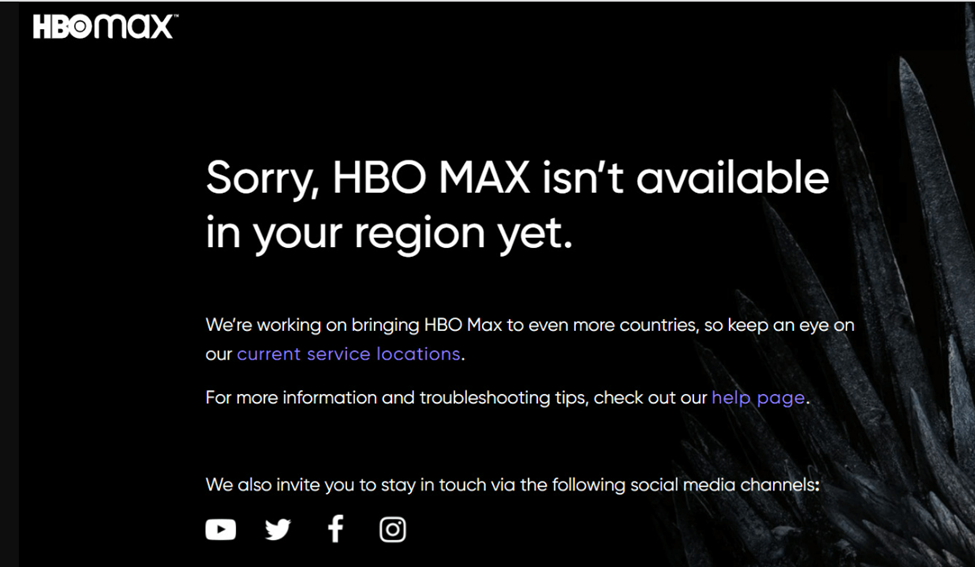 To stream HBO Max while in a foreign country, you'll need to register for a VPN service and use one of its servers back home in a supported place. For example, you could use a US server to obtain a US IP address. From there, go to the HBO Max website and sign up for an account using the VPN connection, or if you already have an account – simply sign in.
In this blog post, we'll provide you with 6 VPNs that successfully bypass HBO Max's VPN block. Although it is not as stringent as Hulu, HBO Max is not supported by many virtual private networks.
Top 6 VPNs for HBO Max
PrivateVPN is our best VPN for HBO Max and other streaming apps, as it has proven over the years how capable it is on the unblocking front.
It comes with a lot of security features, an easy-to-use interface, and a VPN app that works on all types of devices – iOS, macOS, Windows, TV, and Android.
Speed-wise, you can't raise any complaints, and despite the 200 servers, you can easily watch HBO Max in 4K without witnessing any buffering issues. On top of that, it can easily surpass firewalls, which is a good sign, plus – PrivateVPN's IP addresses are rarely banned anywhere.
If you need a high-quality streaming VPN and you are not willing to pay a premium, then PrivateVPN is your best bet.
Best price: You can subscribe for only $2 per month on a three-year deal, and you have a 30-day money-back guarantee.
Surfshark is a surprisingly good alternative to numerous expensive choices. It can successfully stream HBO Max and other content platforms.
It supports very high speeds, and there is no connection limit which is one of the most generous offers on the market. You can watch HBO Max on a Mac, PC, tablet, or smartphone.
Surfshark has servers in over 100 countries, and the app has built a solid reputation over the years. You will have no issues streaming in 4K.
Best price: You can subscribe to the biennial plan for just $2.30 a month, which is quite a good bargain. It also comes with a 30-day money-back guarantee.
NordVPN is one of the biggest names in the VPN industry. The app has been one of the most inventive on the market and is a great option for businesses and individuals alike.
If you're looking for a way to watch HBO Max at 4K quality, NordVPN and its proprietary protocol NordLynx will let you stream 4K and Full HD content without any lagging. You can also watch many other platforms.
NordVPN's reputation is sometimes playing against it, as sometimes its servers are banned from streaming media. You can access many device types, but you can link up to 6 devices per account.
Best price: $2.99 is the best value you can get if you subscribe to the basic two-year plan. If you add all extras, you'll have to pay $5.29. You're eligible for a 30-day money-back guarantee.
ExpressVPN is an institution in the VPN world. Known for its amazing security features, it's a great option for HBO Max streaming.
Apart from being a good option for HBO Max, it's a great VPN for Netflix, Amazon Prime Video, and other platforms, which is fantastic news for fans. While it isn't the fastest VPN app on the market, it doesn't struggle with 4K content.
ExpressVPN has similar issues to NordVPN – you can link only five devices per account, and it's a bit pricey, but millions of loyal customers don't mind paying a premium.
Best price: The annual plan arrives at $6.67 per month, which is significantly higher than many other VPN apps on the market, and it is the highest on our list but comes with a 30-day money-back guarantee.
Atlas VPN is relatively new to the VPN market but has some amazing features, like rotating IP addresses, which make it hard to catch by a VPN block.
As a result, Atlas has become a top VPN for HBO Max and many other streaming platforms. You can enjoy very high speeds thanks to the WireGuard protocol, and there's a free plan, too. The free VPN plan has a monthly data cap limit.
Atlas supports Windows, macOS, iOS, and Android; you can attach as many devices as you wish.
Best price: Atlas VPN offers different promotions. At the moment, you can get a Black Friday offer for just $1.64 a month for a biennial plan.
TunnelBear is an amazing Canadian VPN. It's a good option for businesses and individuals. While it's not the best VPN for streaming, it does well with HBO Max.
We have recorded good speeds, and you can stream 4K without any issues, as there are plenty of servers in more than 48 countries.
You can also link up to 10 devices to the VPN app, which supports Windows, macOS, Android, and iOS. Also, there is a free plan available, but the latter doesn't support HBO Max.
Best price: Apart from the free plan, which is unusable for HBO Max, you can subscribe to the 3-year plan, which will see you pay $3.33 per month.
HBO Max VPN FAQs
Despite HBO Max's attempts to block VPNs, there are still several top VPNs that can bypass its firewalls. This is because these VPNs are constantly finding new ways to circumvent HBO Max's security measures. As a result, users who want to access HBO Max content from outside the United States can still do so.
HBO Max has contractual agreements with film studios that prevent it from streaming in certain foreign regions. This could put the company at risk of being used in violation of those agreements. Blocking VPNs will reduce the chance of HBO being sued in future terms.
HBO Max allows you to connect up to 5 different devices, but you cannot watch on more than 3 simultaneously. This means that you can have different family members or friends watching different HBO Max shows on their own devices as long as no more than three people are watching at the same time.
A VPN can be a great way to access HBO Max, but it's important to make sure that you're doing so legally. In some countries, VPNs are completely legal, but in others, their use may be restricted. Additionally, HBO Max's terms and conditions specifically state that the use of a VPN is not allowed.
20Mbps is enough to watch 4K content on many platforms, but HBO Max states that you need at least 25Mbps sustained speed to access their 4K library. The other desirable option – Full HD, is available at around 5Mbps. HBO Max VPNs will slow down your speeds by some percentage, so ensure you pick less congested servers for your needs.
There are a lot of free VPNs on the market, but none of them offer streaming servers that work with HBO Max. While it may be tempting to try and use a
free VPN
to watch your favorite shows, it simply won't work. Save yourself the trouble and subscribe to a better-suited VPN instead.