Amazon Prime Video is one of the most popular streaming platforms, providing an abundance of TV shows and movies. However, due to strict licensing agreements, many are only available to users in specific countries. To overcome this obstacle and enjoy these shows with friends and family despite your current location, consider using a VPN for Amazon Prime Video.
As a tech giant, Amazon has the resources to fight virtual private networks to protect its studios' and partners' intellectual property rights. The result? Many VPNs are getting blocked, and only some of them manage to bypass the strict firewall.
Still, the best VPNs on the market manage to consistently trick Amazon's "watchdogs." Speaking of the best VPNs for Amazon, which are the ones that will make the list?
We have selected only VPNs with a money-back guarantee, so if you're not satisfied with the quality of your VPN client, you can always switch to another option. Besides CyberGhost with a 45-day money-back guarantee, all of our other options come with the standard 30-day money-back policy.
Streaming Amazon Prime Video from abroad
It is hard to deny that Amazon has a lot of subscribers to Prime Video. Not only does it offer users access to popular movies and television shows, but it also gives viewers a chance to watch Oscar-nominated films for free.
However, most of the content available on Amazon US (and Amazon UK) is unavailable for many countries. As a result, this message appears: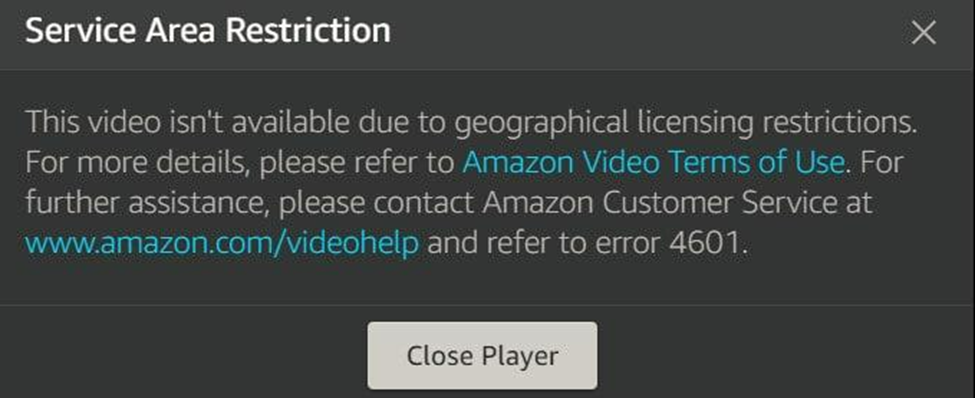 Amazon Prime Video: Error Code 4601
However, most of Amazon's Prime content (including Instant Video) isn't available worldwide. This can be frustrating for ex-pats and travelers who want to share their favorite shows and movies with friends and family. However, this is where VPNs kick in. By using a VPN, you can watch your favorite movies and television shows from anywhere in the world.
6 Best VPNs for Amazon Prime Video
While PrivateVPN is a relatively new player in the VPN market, it has won the hearts of many, and it scores 4.9 out of 5 stars in Trustpilot for being beginner-friendly, a good budget fit, and last but not least – efficient at bypassing firewalls, including Amazon's VPN block.
PrivateVPN also successfully opens Disney+, Netflix, Hulu, BBC iPlayer, and many other services. It is arguably the best VPN for streaming content right now. It supports Windows, macOS, Android, iOS, and Linux, so you can watch "The Great," "Nine Perfect Strangers," and other TV series on all types of devices.
Despite the relatively small network of servers (a bit more than 200), the connection speeds allow smooth 4K streaming capabilities. We didn't experience any buffering issues or image quality drops. Last but not least – all services are optimized for streaming which is not common in the VPN industry.
It's also very secure – the AES-256 encryption (which can be downgraded to 128-bit if you need faster speeds) and DNS leak protection ensure your real IP address won't be exposed, and your data will remain secure.
You can subscribe for as low as $2.00 and connect up to 10 different devices. Provided that you have a 30-day money-back guarantee, this makes PrivateVPN the best VPN for Amazon Prime Video in 2022.
NordVPN is probably the most famous name in the VPN industry. It comes with a zero-logs policy to ensure you can stream Amazon Prime Video care-free. On top of that, it maintains the best speeds, and you won't notice any speed drops.
It has great network coverage, with over 5,000 servers and a proprietary NordLynx protocol, which is a bit like WireGuard. Security-wise, we're pretty proud of what it can deliver, since it runs on RAM-based servers only, has AES-256 encryption, and has full DNS leak protection.
Needless to say, NordVPN runs successfully on other streaming platforms, too. Netflix, Disney+, and Hulu are only part of the content services that it successfully unblocks.
NordVPN is available on all operating systems, and you can connect up to six devices simultaneously (which is a bit low).
The starting plans could say you pay $2.99 a month for the starting plan, but you can end up paying up to $5.29 per month.
ExpressVPN is an outstanding VPN for Amazon Prime Video. It has been a solid player on the market for quite some time and has proved its worth with high versatility and superb performance, and it has one of the most responsive customer service departments of all VPNs.
When we bring the streaming capabilities of the app, it is certainly a top-tier solution for multiple services – Netflix, Hulu, Disney+, and others. Of course, it's on our list for Amazon Prime Video, but during our tests, it did exceptionally well.
With more than 3,000 servers across 94 countries, it can easily keep up with the rest of the group. All servers are RAM-based, which means they don't store data on hard drives. But that's not the only security measure that you'll find in this virtual private network.
ExpressVPN takes security very seriously – it comes with AES-256-bit encryption and best in class hashing (SHA512), and RSA4096 handshake key.
You can use ExpressVPN on all types of devices (however, there's no GUI for Linux), and you can link up to 5 devices to an account, which is a bit low.
The best deal you can get is $6.67 per month on the annual plan, which is costly. Especially, considering how the packages of rivals are 2-3 times cheaper.
Surfshark is a budget-friendly yet very competitive option in the VPN market. Not only does it stream Amazon Prime Video in 4K without any issues, but it's also coming with many security features.
If you're concerned about your privacy, you can turn on multi-hop, and you'll have a bulletproof connection that will allow you to bypass the Chinese firewall. Of course, Surfshark VPN passed our leak test. It also comes with AES-256 encryption, which is considered military-grade.
The app works on all types of devices, and speaking of devices – you can connect as many as you wish, which is fantastic news. Speed-wise, it's also recording some very high speeds thanks to WireGuard, but they are also sometimes inconsistent, which you should take into account.
Surfshark is undoubtedly a good VPN for Amazon Prime Video and works with Netflix, Disney+, and others. However, Surfshark isn't the best option in all cases. For example, it's certainly not the best VPN for Hulu, as the IPs are getting detected.
Overall, it offers great value for the money, as you can get the best deal by paying just $2.30 per month with the biennial plan.
AtlasVPN is the newest member of the elite VPN list, but it has already won many hearts by introducing a free version. And while you don't get to see most perks for free, the paid one won't hurt your bank account, either.
With about 750 servers, AtlasVPN can't compete with giants like NordVPN and Surfshark, but as we've seen with PrivateVPN's number of servers, quality and quantity are two separate things.
AtlasVPN has good streaming capabilities and is considered one of our top VPNs for Amazon Prime Video, and while it doesn't contest the "top guns" when it comes to streaming Netflix, HBO Max, Disney+, and others, it's certainly up there for Amazon's services.
It's also well-equipped with security features, including the robust 256-bit AES encryption, plus rotating IP and multi-hop features. AtlasVPN passed our DNS leak test without an issue.
If you're hunting for a bargain, it comes naturally to pick AtlasVPN, as it is one of the few VPNs (along with Surfshark) that offer unlimited devices per account, and it will cost you only $2.05 per month on the two-year plan.
CyberGhost is our last pick from the list. It is a reputable name in the VPN industry that has proven good for many years. It also offers the most generous money-back guarantee of all VPNs for Amazon Prime Video.
We'll start with its streaming capabilities – from our experience, it was great during the test, but it struggled on many occasions with other content platforms, like HBO Max, and BBC iPlayer.
The extensive server network (8,900+ servers) allows it to achieve high speeds across many countries and doesn't seem to buffer even when loading 4K content. For those who prefer watching at 1920p, there will be no issues at all.
CyberGhost is also a very safe VPN – it comes with AES-256-bit encryption and an additional ad blocker. It passed our leak tests successfully, and we're glad that the VPN provider goes the extra mile and offers a complete package that includes antivirus software.
CyberGhost supports all major operating systems, and you can connect up to 7 devices to an account, which is okay-ish (ExpressVPN and NordVPN both have less).
The biennial plan will let you get the best deal possible, with a monthly subscription fee of only $2.19.
Amazon Prime VPN FAQ
Yes, watching Amazon Prime Video is totally legal if the country you're currently residing in allows streaming content from the platform and the use of VPNs.Despite being totally legal, it's against Amazon's own T&C's, which clearly state: "You may not use any technology or technique to obscure or disguise your location."
Amazon Prime is available in the US, UK, Canada, Germany, Australia, Japan, China, Mexico, Singapore, and a few other countries. Bear in mind that Amazon Prime membership prices may vary according to the region you're in, and also – Prime Video can be bundled with a shopping membership program or come as a standalone subscription service. Content-wise, it's also not the same, as it prioritizes local content. However, Amazon Prime US is regarded as having the wealthiest content catalog.
20Mbps is sufficient to watch Amazon Prime Video in 4K without buffering, while 5Mbps is the bare minimum for Full HD content. Still, from our experience, you need about 40-50% more to run it flawlessly. So, 30Mbps for 2160p and around 8Mbps will be enough.
Yes, the chosen VPNs on our list all have iOS and Android apps, which would allow you to watch Amazon Prime Video on a tablet or a smartphone without issues.
While there are some
excellent VPNs on the market
(like AtlasVPN, ProtonVPN, and TunnelBear), none of them has free streaming servers. There are other free VPNs with streaming servers. However, Amazon VPN block deals with all of them.